Sale!
Volume Eyelash Training and Kit
Kit: Choosing the right kit for you
The volume kit you receive with this course includes everything you need to add volume to an already set up classic work station. This is because it is critical you already have experience in classic lashing.
If you need a refresh in your lashing basics workstation (for things like remover, isolating tweezer, eye pads etc), then choose the 'Volume + Essentials'. However please remember, this course DOES NOT cover basic lashing instruction, for that you will want to first take our classic training course.
Scroll down to see all items included in the kit.
Add-on: Mannequin head information
The mannequin head add-on is not required. It gives you a human like surface to practice lashing and hand placement on however practice can be done on any surface if desired. To receive the mannequin head you must choose the Add-on below.
 Volume Prerequisite: This course does not include lashing basics. A foundation of classic eyelash extension application is needed to succeed.
Ships same day Mon-Fri
when placed by 12pm MST
Immediate Access to Content
upon payment completion
Most states require a cosmetology or aesthetics license to practice eyelash extensions and we adhere to these regulations. The appropriate license WILL BE REQUIRED to receive certification at the completion of this course. This is your responsibility and no refund will be offered once course access has been given, despite license status. For complete details, please review our course requirements page.
A Brief Introduction to Your Eyelash Extension Products
If you purchased our kit/course combo (i.e, not a course enrollment that says 'course only') we are shipping you our Course Kit including the items below. This is one of the highest value, most comprehensive kits you will find and will ship same day Mon-Fri when the order is received by 12 noon MDT.
The items included are:
Take your training with you on the go. This vanity bag is perfect for holding supplies on the go so you can train anywhere.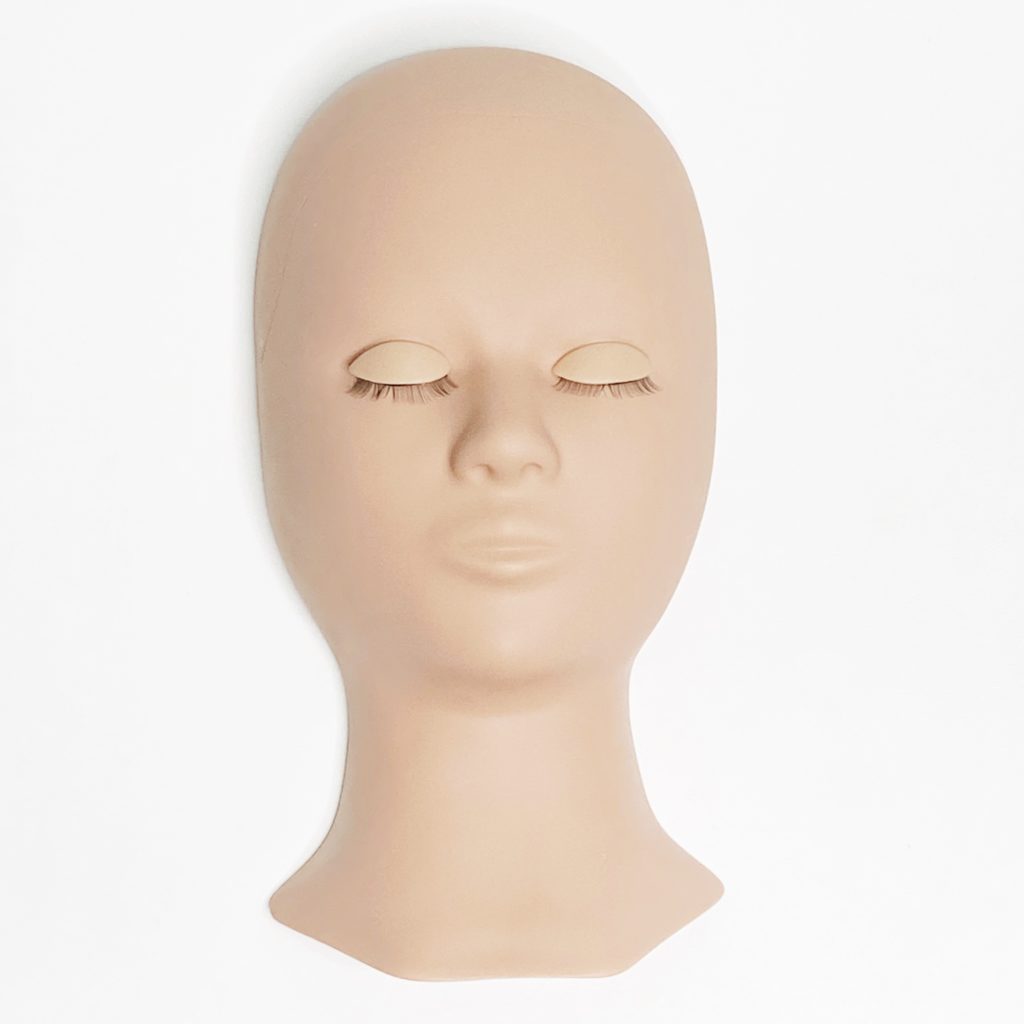 Mannequin Head with Eyelashes
This life size mannequin head will help you to learn how to properly brace your hands as you work and effectively practice techniques before working on clients. ***This is an option add-on at checkout.***
With Mannequin Head add-on: 3 pairs of strip lashes attached to replacement eyelids.
Without Mannequin Head add-on: 10 pairs of stand alone strip lashes.
We have included three full trays of lashes, (1) 0.07 B Mixed Tray, (1) 0.07 C Mixed Tray, and (1) 0.07 C 10mm tray. The perfect combination for practicing all those fans!
This professional adhesive is ideal for volume applications. The Top Shelf's viscosity is just right so it will not wick up and close your fans.
3 sponges perfect for using as a platform when practicing your volume fans.
We assume as a volume technician you have everything you need when it comes to lashing essentials, however if you are looking for a refresh in your essential lashing items you can choose the 'Volume Kit + Essentials' and your kit will also include these items below:
We've included one pair of isolating tweezers with precision tips to help you isolate lashes cleanly and effectively. .
Our LT Scissors are a must for cutting tape strips, cutting your lash strips to make custom palettes for your clients, and to reshape under eye pads for clients with difficult eye shapes.
Great for brushing through the lashes during service as well as gifting to clients for at home care and grooming.
This skin sensitive tape is perfect for taping down eye pads, attaching lash strips to your palettes, and taping and layering techniques for easy isolation.
This skin sensitive tape is perfect for taping down eye pads, attaching lash strips to your palettes, and taping and layering techniques for easy isolation.
Our skin sensitive Lint Free Eye pads are perfect for securing those lower lashes as well as protecting the delicate under eye area.
Our Crystal Foam Cleanser gets those lashes and lash lines squeaky clean to help you achieve a superior bond.
Disposable Cleansing Brushes
These brushes are perfect for one time use so you can keep the most sanitary conditions for your clients.
Our premium nanomister aids in curing your adhesive so clients can get their lashes wet immediately after their appointment. No more waiting for 24 hours to shower, work out, or swim.
This adhesive palette will keep your adhesive at a cool temperature to maintain its freshness during application.
This extra prep product helps with clients who have poor retention due to excess oil production or to help aid in cosmetic removal.
This gel remover is used to aid in full lash removals and to remove adhesive from jade stones, tweezers, or other products.
For precise use during eyelash extension application in applying gel remover, primers, and other solutions.